Bridal & Party Makeup
Best Makeup Artist in Brampton & Top Makeup Service around Mississauga
Makeup Salon in Brampton
We are pioneer in beauty services and have been providing makeup and hairstyle related services from our Brampton based Salon. Our makeup experts have achieved a huge experience in proper use of makeup tools such as creams, powders, gloss, outliners, extensions and brushes. Whether its a wedding party or a reception, our beauty professionals and artists from Mississauga & Brampton know about what type of makeup will suit you for your special day. Not only bridal makeup, we also provide separate specialized packages catered to the needs of groups such as makeup for bridesmaids or family members.
Bridal Makeup in Brampton
Our bridal make-up specialists are trained to provide the service matching different cultures and festivals, such as if you want Indian style wedding makeup, traditional or Pakistani makeup or even Asian or Canadian makeup in Brampton, our salon & spa offers both bridal makeup and party dress up services right from our location near Mississauga. Your outlook is very important when you have to go and attend any social event and while you can go anywhere for your makeup, visiting the experts can help you look special and attractive plus, you will be looking amazing in any photoshoot which adds to the life long memories in our photo albums. We also take care of the timing of your event such that if the requirement is for morning, we have separate techniques for morning daylight makeup that is photographic and for nights, we use night makeup techniques for the picture perfect photos. We make your special day even more special with our makeup effects.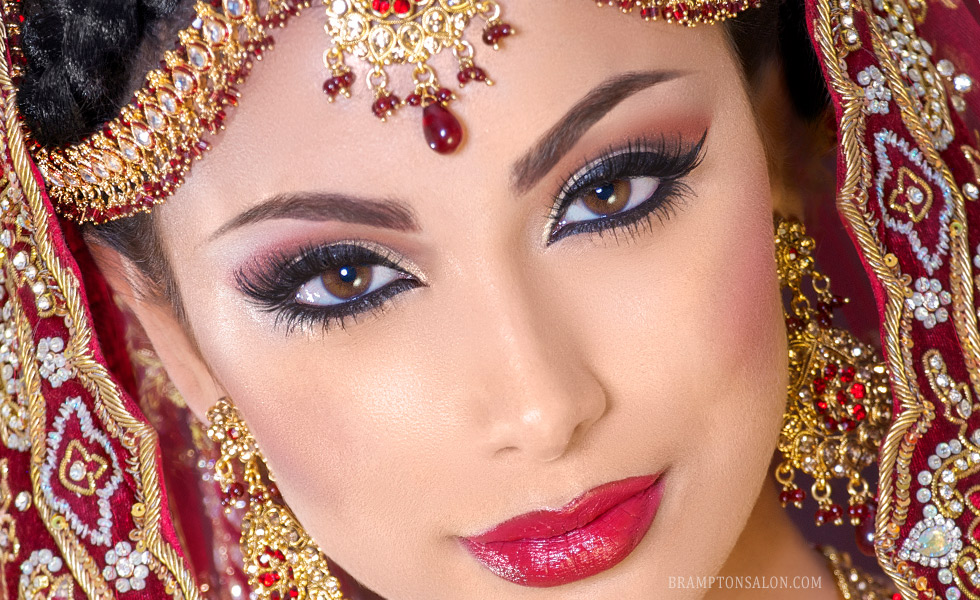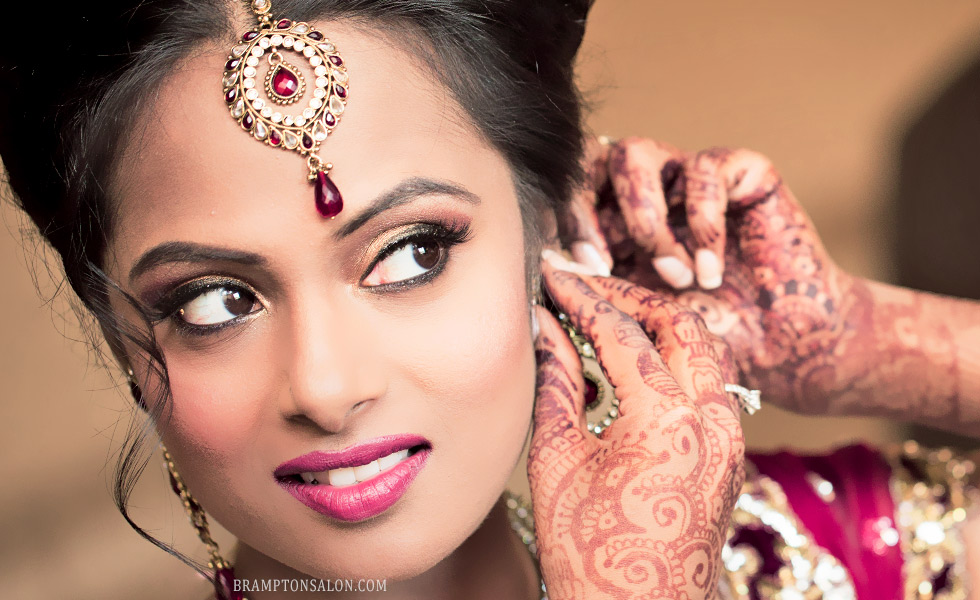 While our Brampton makeup artist do take care of face, they also deeply understand how attractive lips can uplift the who outlook even better and they use the proper combination of Lipstick, Lip Powders, Lip Out-liner and Glosses to properly shape and style them. People looking for party or holiday makeup or a bride looking for wedding makeup around Mississauga can contact our salon and book an instant appointment. We also use blemish hiding cream to overcome blemishes and wrinkles and use other makeup tools such as eyebrow pencil or eyeliner to enhance the outlook. Our experience in makeup for eyes and face allows us to give you the desired look and you can feel confident at the party that you are going to attend.
We use different techniques to make you look beautiful some of which are covering up skin imperfections with adequate use of concealer, liquid or powder based foundations to normalize the skin tone, use of water proof makeup for weddings where its critical to be picture perfect all the time, face powders for the very famous matte looks and use of dark makeup on particular areas of face to make it look slim or otherwise called skin contouring. Also, to highlight different parts of face, we use mascara for darkening or to broaden eyelashes and curling them to look appealing. We also carry a huge variety of fake eyelash extensions that are easy to apply and require lesser care and maintenance. Also, we carry the most popular Bridal Air Brush Makeup & are expert in both Summer and Winter Makeup.
If you want to book an appointment with our makeup specialist or have any query that you would like to be answered, please feel free to contact us or walk in to our Salon & Spa Centre.